[CP] Doom It Yourself (DIY) Get imaginative with bold colors and MBF21
Doom It Yourself (DIY) is a bold, bright and colorful MBF21 community project that is open to any and all mappers, regardless of skill. Submission deadline is 16/02/2022 (roughly 6 weeks).
So what's this CP all about? I was inspired by Spendoragon's speedmaps 1 Bad Wad, big big props to him for the original concept. I loved how believable and interesting the environments were with these simple colors. I expanded on 1 Bad Wad by adding a dark shade to each color for textures and flats but also redoing all graphical assets in the game too.
There's a huge range of possibilities with having plain colors, you can make believable locations like a city or completely abstract and mind-bending worlds. Below are a few screenshots I took from 1Bad Wad to give you an idea and maybe even some inspiration.
You can make a believable city street with very minimal detailing

You can be as detailed as you like

The doomcute is off the chain
https://i.imgur.com/PqxjxOJ.png
Strikingly abstract

I have expanded this limited color concept from textures to all other assets. Gameplay is unaltered and running under MBF21. MBF21 gives the familiarity of Boom but also new map features and more control. All decorations and UI elements have been visually changed too. The monsters have a very dark and strange feel to them IMO. I have included a small demo map just to see some of item changes (not all). Weapon sounds have been changed to their PSX equivalents.
The map format and target port is MBF21 so you can do all sorts of voodoo doll shenanigans. The build time is roughly 6 weeks because I want this project to be low stress for anyone mapping. There's no map slots, I will instead create a hub map using UMAPINFO. Please provide your own midis, I can provide one if needed but I can't imagine why someone wouldn't want to choose their own track. Go for whatever midi you feel fits your map. I've been looking into early point and click titles like Space Quest and King's Quest for music and we also have a lot of great musicians in our community. I will make sure everyone's map gets playtested and will record demos for maps so as they come in.
I'm very excited to see what sorts of things people come up with, I expect there will be a large variety. If you have any questions or comments, feedback etc just shout out.

Let's make some groovy Doom maps~
Map format and target is MBF21


IWAD is DOOM2.WAD


All maps must be in MBF21 and be tested with DSDA-Doom -complevel 21


No map limit or taking specific slots - UMAPINFO will be used behind a hub map that I will make.


All mappers are welcome and I will try to take all maps provided (no 32 map limit) but there may be tweaking that needs to be done based off feedback.


Only textures and flats allowed are the new ones provided (ALL***, DRK***) - no using custom or vanilla textures


Please provide music for your map. I can help with recommendations if needed.

Mappers:
vertigo (map not submitted yet)
✯𝔉𝔢𝔩𝔩𝔬𝔴𝔑𝔬𝔬𝔟✯
MFG38
SynDoom
/vr/ anon
posted in Community Projects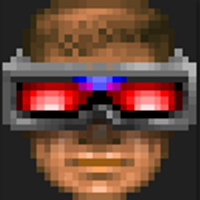 V