Amorphous Euphoria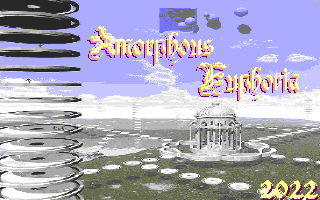 Howdy pioneers! Amorphous Euphoria is Doom Universe's first original community project and made for limit-removing ports. The "theme" of this project is free-form artistic expression! Anything goes! However do note that this is NOT a speedmap project.
Copying my recent posts here:
I should be more clear that I'm not looking for quick speedmaps but want maps that have a quality to them and that despite what the map entails, it's polished and done to the best of the mapper's ability. Absolute freedom can be a paralyzing idea, so instead think that if you've ever had an idea for a map but lack a reason to make it or a theme it would be appropriate for then this is the WAD to put that idea forward to.
Textures are mostly stock with Doom 1 textures inside of Doom 2, with water/lavafall textures, Doom Universe logo textures, and alphabet strings to write custom messages with. If you want a whole new look then it's up to you on how to weave that together with what's provided

Rules:
Limit Removing format. This means regular Doom in Doom 2 format. Complevel 2 and I'll be testing in Crispy Doom.
Implement difficulty settings for very difficult maps (or otherwise at your discretion). If people have trouble beating it then give some extra power-ups and such on lower difficulties.
Please take a listen to the MIDIs included in the WAD as they deserve to be heard and I hope you find something you like! You can use any MIDI you like that isn't included in the resources as long as it doesn't hurt consistency/hurts my ears. If the MIDI you want doesn't come with the SKY you want then feel free to fix it over to the slot you need.
If you have a custom website or any place you host your personal content you want to share then we can make a custom texture for your map to implement it in. Example: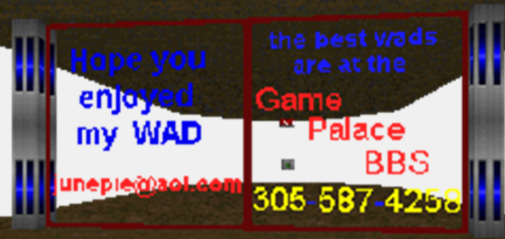 There isn't a set date for when mapping for this will end so I'll think about that a month or two later. However I do want to wrap this up come April.
3/12/2022 - I've decided to keep this open until it's a megawad full of awesome maps to make sure it's a worthwhile release that people will seek out. The ultimate 90s-ish-esque map compilation! Updates on project releasing/future actual deadlines pending.
4/10/2022 - It will be done sometime this year for sure though. Not enough maps have been submitted yet for me to know where this may be headed.
5/16/2022 - Thinking a release date should be some time around August - October. Will give a heads up if I settle on this.
Trello Board: https://trello.com/b/1Ntm1H0z/amorphous-euphoria
>>>DOWNLOAD THE RESOURCES HERE<<< Includes a map I made in the MAP15 slot.
Show me how you groove!
posted in Community Projects